We can't wait to see everyone back on campus!
For Fall 2021, the university is planning for a full resumption of in-person classes and a return to pre-COVID-19 campus operations with faculty and staff returning to working on campus by June 7, 2021, if they haven't done so already. See  Chancellor Boyce's message about Fall 2021 and about returning to work on campus. The University of Mississippi is committed to keeping its faculty and staff updated, informed and healthy. If you have questions that aren't answered in the resources below, please email c19@olemiss.edu.
On-campus wellness resources
Return-to-work campus resources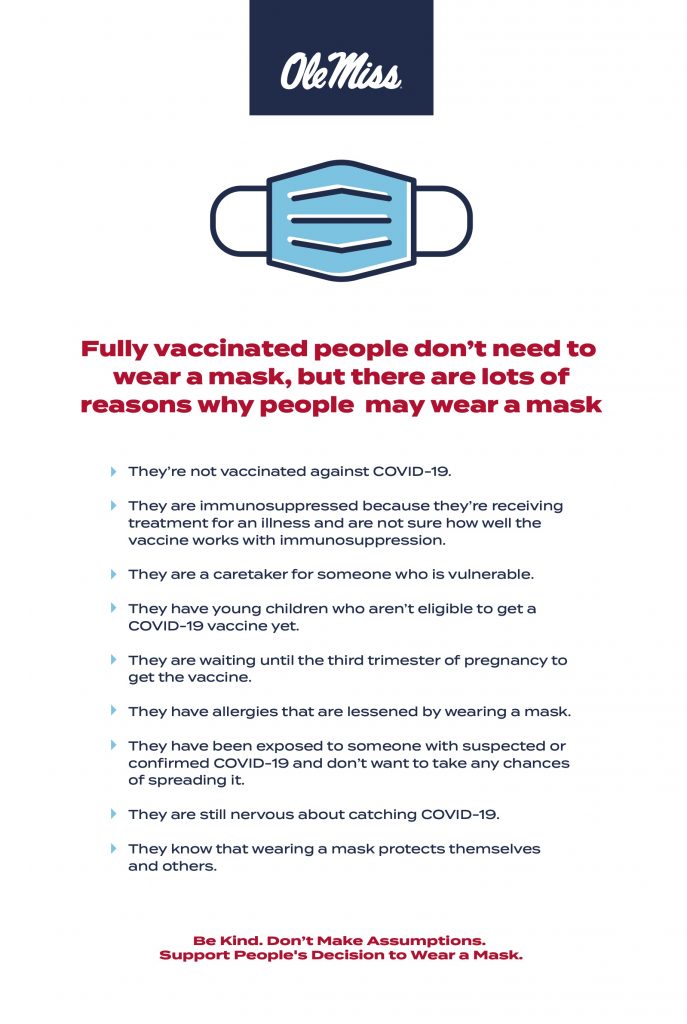 Keep Teaching website
Summer dress code
Parking permits for faculty/staff returning to campus
Blog with perspective and guidance regarding "reentry" after COVID-19 by Dr. Jean G. Gispen, staff physician with Employee Health
Return-to-work news and tips
FAQs
Q: Will the university require a COVID-19 vaccination?
A: While the university strongly encourages students, faculty and staff to get vaccinated for COVID-19, the university does not currently require students to get vaccinated for COVID-19. Requirements for other types of vaccines were initiated at the IHL level for the entire university system, and we do not know of any plans to create such a requirement for the COVID-19 vaccine.
Q: Does the university provide time for employees to get the COVID-19 vaccine?
A: All employees will be paid for time taken to receive vaccinations administered on campus. For off-site vaccinations, employees should work with their managers to schedule an appropriate time that is least disruptive to the workday. Non-exempt/hourly employees can charge up to two hours of administrative leave time to receive the vaccine off-site when it cannot be scheduled before or after work or during a lunch break.
Q: What if I am vulnerable and cannot get the vaccine?
A: Contact the Office of Equal Opportunity and Regulatory Compliance (eeo@olemiss.edu) to apply for a reasonable accommodation.
Q: What if I care for a dependent who is especially susceptible to contracting the virus?
A: Contact Human Resources to see if you qualify for a leave of absence under the Family Medical Leave Act (FMLA).
Q: Are masks still required?
A: In accordance with evolving public health guidance and the widespread availability of COVID-19 vaccines, effective Monday, May 17, 2021, all fully vaccinated individuals (those who have received their final COVID-19 vaccination at least two weeks ago) are no longer required to wear a mask or maintain social distance when indoors or outdoors on the Oxford campus of the University of Mississippi. Anyone who is unvaccinated still needs to wear a mask. The revised guidance does not apply to healthcare settings such as University Health Services and the University Counseling Center. Faculty and supervisors should allow and support all those in our community who continue to wear masks in classroom and office spaces. See this CDC resource for how vaccinated people and unvaccinated people choose safer activities and the level of preventative measures needed.
Q: How will I know if someone is vaccinated? Can I ask my co-workers if they are vaccinated?
A: An individual's vaccination status is protected personal information, and we encourage faculty and staff to not ask individuals about their vaccination status. While there is no way to tell a vaccinated person apart from an unvaccinated person, currently authorized vaccines in the United States are highly effective at protecting vaccinated people against symptomatic and severe COVID-19. Additionally, a growing body of evidence suggests that fully vaccinated people are less likely to have asymptomatic infection or transmit SARS-CoV-2 to others.
 Q: For the fall, will the campus maintain COVID protocols like masks and reduced classroom/venue capacities?
A: For Fall 2021, the university is planning for a full resumption of in-person classes and a return to pre-COVID-19 campus operations. We will continue to monitor the health and safety of our campus community and adapt, if necessary, to government orders and public health guidance.
Q: Are there any COVID-19 restrictions for university-related domestic and international travel?
A: Domestic travel (continental U.S.) no longer requires a waiver due to COVID-19, but employees are asked to certify that they are aware of and will comply with COVID-19 protocols in effect for the destination to which they are traveling. All university-affiliated international travel must continue to apply for a waiver with the Office of the Provost. Staff who believe their international travel is essential must apply for a waiver through their respective Vice Chancellor.
Q: If I am registered for a virtual conference, am I required to report to my office to login to the virtual conference?
A: With the supervisor's approval in advance, working from home on occasion may be appropriate. An employee may participate in a virtual conference either by working from home or in the office.
Q: Do I have to self-isolate after traveling for vacation?
A: Employees are not required to self-isolate after traveling for vacation, and supervisors cannot require an employee to self-isolate, either by using personal leave or by working from home upon return from vacation.
Q: What guidance should we follow for large meetings and gatherings?
A: Large meetings and gatherings are permissible. Employees may arrange and attend larger events. Arrangements should take into consideration all employees' comfort-level based upon their vaccination status. There should be a level of respect for those who choose to wear a mask and desire to continue to social distance. The size of the venue should provide an opportunity for employees (vaccinated and unvaccinated) to spread out.
Q: Will the university update its telework guidelines?
A: The university's Work Strategies Task Force is reviewing and updating telework guidelines to be released later this summer. The updated guidelines will include a process for determining whether a position is conducive for telework, and guidance for evaluating an employee's previous performance as an indicator of a mutually beneficial working arrangement. The guidelines will also include strategies for alternative work arrangements and incorporate lessons from this past year.
Q: What do we do if we don't have a current parking permit? Do we have to buy one for both the remaining summer months and 2021-2022?
A: Parking permits are pro-rated, so you will need to purchase one for the remaining summer months as well as for the 2021-22 academic calendar year when sales for those begin in July.
Q: Can we use break rooms in office spaces?
A: Common spaces across the campus can return to pre-COVID configurations. Employee guidance for common spaces:
Avoid crowding of break rooms, conference rooms, and other similar employee gathering areas.
Students, faculty, and staff are expected to take individual responsibility for wiping down objects that they need to use or touch.
Maintain a sufficient supply of disinfectant wipes in conference rooms, break rooms, etc. so employees can wipe down tables, chairs, shared appliances, office equipment, countertops and other frequently touched surfaces and objects as needed throughout the day.
Maintain a supply of hand sanitizer in common spaces. Hand sanitizer must be alcohol-based and contain at least 60% ethanol.
Minimize the use of commonly shared items like magazines, common pens, and other high-touch items or wipe them down with a disinfectant between users.
Note: Frequently touched surfaces and objects in common areas will be cleaned/disinfected at least once per day by FM custodial staff as part of their normal, daily cleaning routine; these include entry/exit door handles, push plates and crash bars, interior doors, automatic door operators, stair hand rails, elevator buttons, common area tables and countertops, faucets and sinks, drinking fountains, flush valves, light switches, public telephones, public touchscreens, furniture armrests (non-porous material only), vending machines, etc.
Q: Will the university provide cleaning supplies and hand sanitizer for offices/departments?
A: Hand sanitizer pumps and disinfecting wipes may be requested by submitting an SAP notification or sending an email to fm@olemiss.edu.
Q: If I am vaccinated and I am around unvaccinated colleagues in my workspace, how can I feel confident I won't spread COVID-19 to my unvaccinated children?
A: Current scientific consensus and guidance from the CDC concludes that vaccinated people are at virtually no risk of serious disease and early data show that vaccines help keep people with no symptoms from spreading COVID-19 to others. Children and adolescents who get infected by the coronavirus tend to have less severe cases of COVID-19. It is important to note that on May 12, the CDC shared that everyone 12 years of age and older is now recommended to get a COVID-19 vaccination. If there are people in the same family, some of whom have had the vaccine and some have not, they don't need to mask around one another. The family, as a unit, should decide what your risk tolerance is when out in public.
Q: If I am fully vaccinated with no COVID-like symptoms following an exposure to someone with suspected or confirmed COVID-19, do I need to quarantine or be restricted from work?
A: Most fully vaccinated people with no COVID-like symptoms do not need to quarantine, be restricted from work, or be tested following an exposure to someone with suspected or confirmed COVID-19, as their risk of infection is low. However, they should still monitor for symptoms of COVID-19 for 14 days following an exposure.
Q: Am I required to use the university's COVID-19 Daily Symptom Checker to assist in self-monitoring for COVID-19 symptoms?
A: It is not required to complete the Symptom Checker daily, however, it is good practice to have a daily habit to check your health status and symptoms, even if you are feeling healthy. The Symptom Checker serves as a resource to help you make decisions about seeking appropriate medical care. Please note that the Symptom Checker is not intended for the diagnosis or treatment of disease or other conditions, including COVID-19.
Q: What if I am experiencing possible COVID-19 symptoms?
A: If you are not fully vaccinated (those who have received their final COVID-19 vaccination at least two weeks ago), don't come to work if experiencing any possible symptoms of COVID-19 or when ill. Remain in quarantine while waiting for test results and follow medical providers' instructions. If you are fully vaccinated and experiencing any possible symptoms of COVID-19, you should also get tested and stay home and away from others. See this guidance from the CDC.
Q: May an unvaccinated employee work without a mask when they are alone working in their own office?
A: Yes.
Q: I am still facing childcare challenges. Can I continue to telework until I find a solution?
A: Supervisors and employees are encouraged to discuss strategies for work arrangements that address  challenges faced by the employee while also ensuring that the employee can successfully perform their duties in order to contribute to the department's continued operations.
Q: Now that we can have personal visitors in our offices, can my children come to my work space?
A:  While personal visitors, including children, are now allowed in work spaces, please be mindful that having a child in your work space cannot be a substitute for childcare.
CDC guidance on when to wear a mask
See the accessible version of the below image here. More guidance for fully vaccinated people is here.