As activities increase and operations resume on campus, university officials will closely monitor and assess how the virus progresses and policies and procedures to mitigate it. If localized outbreaks emerge, tighter restrictions and reduced on-campus presence may need to be implemented again. Actions taken will be based on guidance from public health officials.
Student Responsibilities
All students are expected to comply fully with the policies, protocols and guidelines.
Face Masks or Cloth Face Coverings: Properly worn face masks or cloth face coverings (covering both the nose and mouth) will be required in all classrooms, hallways, auditoriums, instructional spaces, laboratories, common areas, shared spaces, and restrooms. A face covering is required in the presence of others in all indoor spaces. In addition, face coverings will be required outside when adequate social distance cannot be maintained and you are within 6 feet of another person. Any exceptions to these requirements will be outlined in the protocols. All faculty, staff, students, and visitors are required to comply with this requirement.

Follow CDC guidance for wearing a face mask:

Wash your hands before putting on your mask
Put it over your nose and mouth and secure it under your chin
Try to fit it snugly against the sides of your face
Make sure you can breathe easily
Don't put the mask around your neck or up on your forehead
Don't touch the mask, and, if you do, wash your hands or use hand sanitizer to disinfect
The CDC does not recommend using masks if they have an exhalation valve or vent. The purpose of masks is to keep respiratory droplets from reaching others to aid with source control. Masks with one-way valves or vents allow exhaled air to be expelled out through holes in the material. This can allow exhaled respiratory droplets to reach others and potentially spread the COVID-19 virus.

Social Distancing: In addition to face masks/cloth face coverings, people should make every effort to stay 6 feet from other people. Please remember that wearing a face covering is not a substitute for social distancing.
Cleaning: All of us must share responsibility for cleaning public surfaces to decrease touch risk of spreading the virus. Disinfectants, hand sanitizer and other supplies will be available across campus. Students and faculty will both play a role in disinfecting and keeping surfaces in classrooms clean.
Mandatory Student COVID-19 Training in Blackboard: All students will be expected to complete a COVID-19 training module before coming to campus. All employees are completing a similar training because it will take all of us adhering to the protocols and parameters to continue our activities.
Health Monitoring and Symptom Screening: Students must use the university's COVID-19 Daily Symptom Checker to assist in self-monitoring for COVID-19 symptoms.
The purpose of this self-checker is to help you make decisions about seeking appropriate medical care. This system is not intended for the diagnosis or treatment of disease or other conditions, including COVID-19.
Your responses are completely anonymous, and no personal information, IP address, or geolocation will be collected.
What Will Happen If the Virus Spreads?
Non-compliance with protocols, especially face mask/face covering and social distancing requirements, will increase the spread of the virus. As a result, more drastic restrictions or scaling back activities may be necessary if protocols are not followed. Please know that if lack of adherence to the protocols result in prolific virus spread, we may be forced to scale back or limit activities and interactions.
Classes and Instruction
Classroom capacities will be reduced to comply with CDC and national public health recommendations. Based on the facility protocols posted on the web, it is clear that not every instructional space will support the capacity booked for the fall due to the necessary protocols. Deans, chairs, and faculty are evaluating each course section using a principled set of considerations or factors to decide whether a course should be offered in one of four formats: face-to-face, hybrid, remote, or online.
Given the space limitation necessitated by the protocols, some classroom changes and use of large spaces will be needed. Once course format and classroom assignments are complete, we will make this information available to faculty and to every student so they can see the format for the courses they are enrolled to take. Course delivery modes will be updated in the scheduling system over the next couple of weeks.  We anticipate having all course delivery information updated in the system around July 20th.
The university continues to evaluate classrooms and seating capacity. The seating chart below illustrates a sample classroom with physical distancing.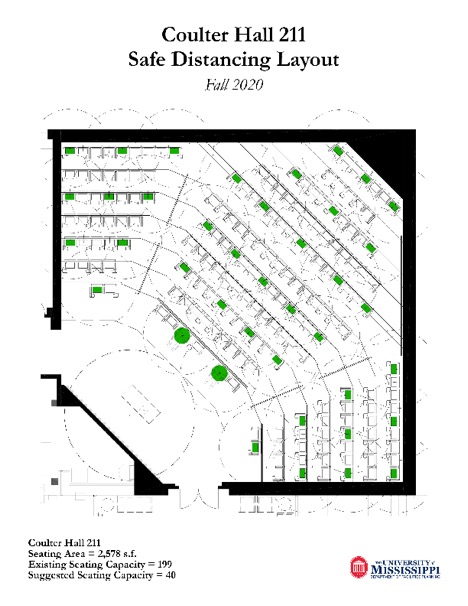 Course Delivery Modes
COVID 19 Mode of Instruction
On-Campus Interaction in Course
Face to Face Component 
Synchronous Instructional Component
Assessment Proctoring (if used)
Office Hours and synchronous engagement with instructor
FACE TO FACE "Room"
YES (in person)
80% OR MORE FACE TO FACE IN CLASS
80% OR MORE IN CLASS PLUS  ZOOM
FACE TO FACE or ELECTRONIC PROCTORING
YES
HYBRID "Uses Room AND Zoom"
YES (in person)
Regular, ongoing sessions in the class are FACE TO FACE
Engagement with instructor not face-to-face can be online or via ZOOM
FACE TO FACE or ELECTRONIC PROCTORING
YES
REMOTE "Converts Room TO Zoom"
NO (all virtual)
NONE
A majority of scheduled sessions held using synchronous engagement via ZOOM
ELECTRONIC PROCTORING
YES
ONLINE "Fully Online"
NO (all virtual)
NONE
NONE
ELECTRONIC PROCTORING
As Needed
 
Teaching Format Glossary
FACE TO FACE
Face-to-Face Instruction – All of the students enrolled in the class are being taught by the faculty member at every (at least 80% of class meetings) scheduled class session face-to-face — that is students and faculty physically in a room together. (All faculty and all students are in person.)
HYBRID
Hybrid Instruction – A hybrid course describes a course in which some traditional face-to-face instruction has been replaced with virtual learning activities or other technology-based instruction. A hybrid course is designed to integrate face-to-face and virtual activities to reinforce or complement one another. The regular, in-person contact with the faculty member will depend on the number of students enrolled in the class and the classroom capacity. Faculty will communicate expectations to students no later than a week before the start of the Spring semester.
REMOTE
Remote Instruction – This is a class that uses synchronous sessions using Zoom (or another videoconference technology) with a majority of the class instructor engagement held as synchronous virtual meetings, with the remainder involving asynchronous engagement. The synchronous delivery of a course refers specifically to instances where instructors and students are not physically in the same space at the same time, yet are meeting regularly at a specified "class" time via technology.
ONLINE
Online Instruction – A course is designed specifically for delivery to students who are not physically nor synchronously present with the instructor. The pedagogy is designed to teach the material using technology. In addition to asynchronous interaction, it may include occasional synchronous student interaction with the instructor as is mutually convenient.
Note that engagement with the instructor during scheduled class times can include discussions, help sessions, recitations, lectures, assignment or homework assistance, and other forms of engagement with the course material.
Virus Outbreak – Effect on Classroom
From the Academic Programs and Experiences Protocols:
Note that a positive test result will be obtained several days after a test. Touch risks have been considered to present a low risk of transmission. As a result, daily cleaning by Facilities Management and the wipe down of surfaces by students and faculty should be sufficient and enhanced cleaning of classrooms or notifications of entire classes will not be necessary or practically effective. Therefore, individuals who have been determined to be close contacts will be contacted by the University's contact tracing team.
If it is discovered that a student or faculty member with COVID-19 has been on campus, the case will be reported on the university's webpage, without disclosing the student's or faculty member's identity. Close contacts to that individual will be contacted using standardized language.
If a student discloses to a faculty member that they have been diagnosed with COVID- 19, the faculty member should notify their chair, who will contact Facilities Management to determine appropriate cleaning, if that student has been on campus. The student should be encouraged to contact University Health Services. The identity of the student should not be disclosed to the public or the class. More information can be found here: https://coronavirus.olemiss.edu/confirmed-cases-reported-to-um/
Classrooms and instructional spaces will be cleaned each morning by Facilities Management.
Public health officials will work with the affected individuals to determine who will need to quarantine based on the published definition of close contact.
If a classroom is taken offline, the faculty and students will be notified and the course format will need to shift to remote or online while the classroom is offline.
If an instructor or multiple students within a class are affected by COVID-19, this may necessitate the decision to shift the course from face-to-face or hybrid format to online or remote format for the remainder of the semester. That decision will be made by the instructor, chair, and dean.
The transition from face-to-face or hybrid courses to fully online for the institution will be made by the Chancellor based on public health officials' recommendations, with input from the Incident Response Team, and guidance from current executive orders and local orders.
Resilient Teaching
The university's Center for Excellence in Teaching and Learning has created a Keep Teaching & Learning Community that is helping our faculty to develop teaching strategies that are adaptable to whatever situation the virus presents. Faculty will be encouraged to account for the fact that attendance could be affected by quarantine or isolation. This "resilient pedagogy" will enable our faculty to keep teaching their courses in whatever format is necessary. This will ensure that we get our new students started off well as they start their academic journey and will keep our current students on track toward their degrees.
Internships and Experiential Opportunities
Many companies, organizations, and programs have scaled back in accordance with protocols recommended by the CDC and other health officials. Schools, the Career Center and others are working to determine which of these opportunities can be done virtually or in-person with restrictions in place. Information about the protocols or response to the pandemic by the outside organizations will be available from program directors, the organizations offering these experiences, and/or the Career Center.
Library
UM Libraries will be open and will provide services. Adjustments to the schedule and the access to specific areas may need to be adjusted due to public health guidance. Please visit the UM Libraries website for details.